The Mini Big Band
The Mini Big Band is run by twin brothers Chris and Jon Hibbard (pictured above) who are well versed in providing the highest quality musical entertainment for any wedding, corporate or private event.
The Mini Big Bands 10 piece band provides a powerful wow factor to any event and a vintage sound like no other. Our beautiful vintage stage set, sharp suits and styling, dance floor filling repertoire and pure energy will have your guest amazed and dancing all night long.
The Mini Big Band features some of the finest young musicians in the UK and a repertoire which takes you on a journey from classic swing right through to more modern songs in our vintage style, with a mix of Jive, Rock n Roll and Classic hits along the way.  Music that caters for everyone!
All of The Mini Big Bands music has been specially arranged for the 10 piece band to ensure we get that classic "big band swing sound", a sound that smaller bands simply can not achieve.
We also offer a free DJ service which means you can relax and let The Mini Big Band take care of all of the music for the full night.
Jazz and Lounge Music
Whilst The Mini Big Bands main swing show focusses on spectacular evening entertainment we also understand that one of the most special times (musically!) on your wedding or corporate event day is your guests arrival drinks.
This is the first time that your guests will enter the venue that you have been styling and designing for months and the right style of music at this stage can instantly set the ambience and style of things to come.
We have put together a fantastic selection of acoustic jazz lounge style music for a variety of lines ups to suit your style; from a solo pianist, cool saxophone led trio or our more Gatsby inspired acoustic jazz quartet, all specialising in a modern set list performed in a classic vintage style.
A great way to get your guests smiling, singing and dancing right from the start!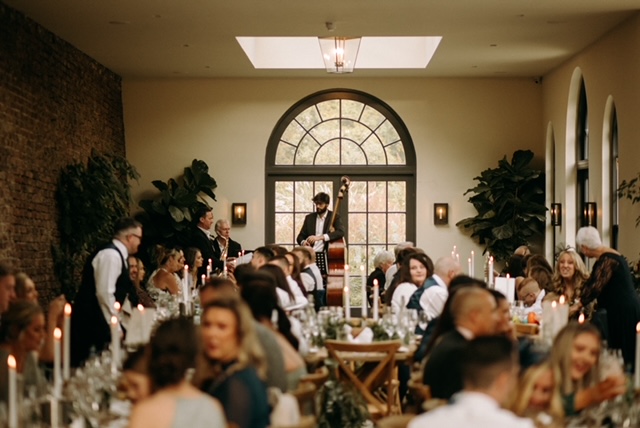 Christmas Parties and NYE
We love this time of year!  There are so many amazing, classic swinging Christmas songs that are perfect for The Mini Big Bands vintage style. Our special Christmas show takes you on a swingin' nostalgic Christmas party journey like no other, whilst our Black Tie styling for the more formal Christmas Party season fits in perfectly.
We have enjoyed being part of many New Years Eve parties over the years all over the world and we fully understand the special glamour, excitement and build up required for this evening. The Mini Big Bands glamours style and sound fits perfectly for this evening and our special show builds the excitement right to the final countdown. The show doesn't stop there however. Our versions of "Auld Lang Syne" and "Skirl Of The Pipes" after the final countdown ensure that everyone starts the New Year on the dance floor in style!
Award Stings/Play ons
Our specially designed "play-ons" or "stings" can really put the icing on the cake for any awards evening or corporate event. A short hit of that classic big band swing sound as people make their way to the stage gives a real touch of class and excitement to your evening, whilst helping to create and build a fantastic atmosphere for the award winners and guests alike.
Jewish Weddings
Over the years we have performed for many amazing Jewish weddings and we fully understand that these run slightly different to other weddings and we are fully versed in the details and preparations required for this. We are also proud suppliers for 'Smashing The Glass' (https://www.smashingtheglass.com) the worlds leading Jewish wedding planning website.
Our service usually starts with the Bride and Grooms entrance for the Hora, where we have a great selection of specially arranged traditional music for this.  We can then carry on the entertainment throughout the day performing our usual party style music as well as versions of the National Anthems.
We can also provide music for the Chuppa if required and although our usual singers do not sing in Hebrew, we do also work with some fantastic specialist Hebrew singers where required.
Please let us know on booking if your event will be a Jewish wedding so that we can start to discuss the exact details you require.